Longevity Arbor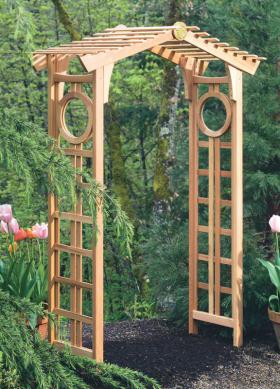 Drop Ship
$445
Enter a world of mystique and contemplation with the stunning Longevity arbor. With its graceful, upswept gable adorned with a brass Chinese Longevity symbol, and its distinctive circular windows, the Longevity adds a touch of the exotic to your garden or pathway.
For lasting strength, the pre-assembled side panels feature furniture-style, mortise and tenon joinery of rail to posts. Lattice panels are double fastened at every joint and set into channels in the surrounding frame with bleed-free hardware.
Packaged in a single carton and complete with all hardware and easy-to-use instructions. Includes 4 galvanized steel anchors for securing arbor with cement.
Made in the USA of premium grade, 100% Western Red Cedar.