Heritage Arbor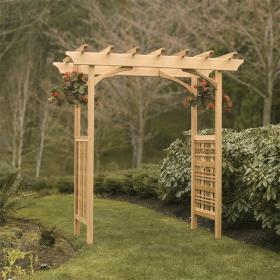 Drop Ship
$700
This expansive arbor features a distinguished side lattice pattern combined with low-cut panels to enhance your landscape without obstructing your view. Perfectly suited for use with hanging plants. Features adjustable opening up to 5 ft.
To accommodate various path widths, Heritage features an adjustable clear opening that can be set at 48.5, 54.5 or 60.5 inches.
For lasting strength, the pre-assembled side panels feature furniture-style, mortise and tenon joinery of rail to posts.
To support both hanging and climbing plants the heavy duty lattice panels are double fastened at every joint and set into channels in the surrounding frame with bleed-free hardware.
Packaged in a single carton and complete with all hardware and easy-to-use instructions. Includes 4 galvanized steel anchors for securing arbor with cement.
Made in the USA of premium grade, 100% Western Red Cedar.